I originally sent this in a newsletter fresh in the inspirational afterglow of a most incredible Prince show in 2013, almost 4 years ago to the date. This recipe actually has three kinds of berries in it, but in honor of The Purple One (RIP), we sing it like… you get it.
This is stupid easy to make in the blender. Make the most of seasonal berries and add ice, or use frozen berries like I do.
Serves 2-3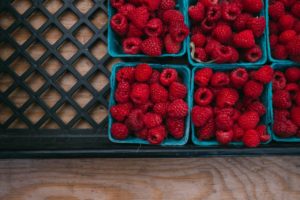 Ingredients:

2 c frozen berries (raspberries, blackberries, and strawberries; use one or all. Add blueberries, hell, even cherries; let's go crazy!)
Juice of 1 lemon (or less, to taste)
1 tsp vanilla extract
1 TBSP or less of sweetener (raw honey or high-quality maple syrup are both great)
Directions:
Blend. You could also use a food processor. Either way, you may need to stop a scrape the sides a few times.
Eat and enjoy, OR top with chocolate sauce, then eat and enjoy a little bit more. (I make a quick chocolate sauce with 1/8 c cacao powder, 1/8 c coconut oil, 1/4 tsp vanilla, 1 TBSP raw honey or maple syrup, and a pinch of sea salt.)
Prince soundtrack optional, but encouraged.